Commercial and Industrial Parking Lot Training in Minneapolis
Posted 11.20.18
In today's world, being efficient and effective with resources is the name of the game to keep your customers and tenants returning year after year. Join us for this comprehensive training and education seminar related to the unique requirements of your commercial and industrial parking lot installations.
From construction to maintenance, materials to proper pavement design, learn what is required for keeping your facility in tip-top shape
January 9th, 2019
8:00 AM Registration
8:30 - 4:30 Training
How to Build
How to Maintain
5:00 - 7:00 PM Tour and Reception
Dinner, transportation, and beverages included with registration.
We will tour American Engineering and Testing Inc. materials and geotechnical facility located near our training location. This tour will be a wonderful opportunity to explore and understand what goes on behind the scenes for your parking facility. Get a first-hand look at Asphalt Materials Testing and Geotechnical services that can assist and provide you with the best in long-term durability for your facilities.
January 10th, 2019
8:00- 12:00 PM Training
How to Rehabilitate
What's New and Next
Who will benefit: Professional Engineers, Consultants, Geo-Technical, Project Managers, Contractors, Architects, Commercial Developers, Commercial Property Owners.
10 PDH's will be provided on request.
Space is limited... Register Today!
https://apatraining.eventbrite.com/​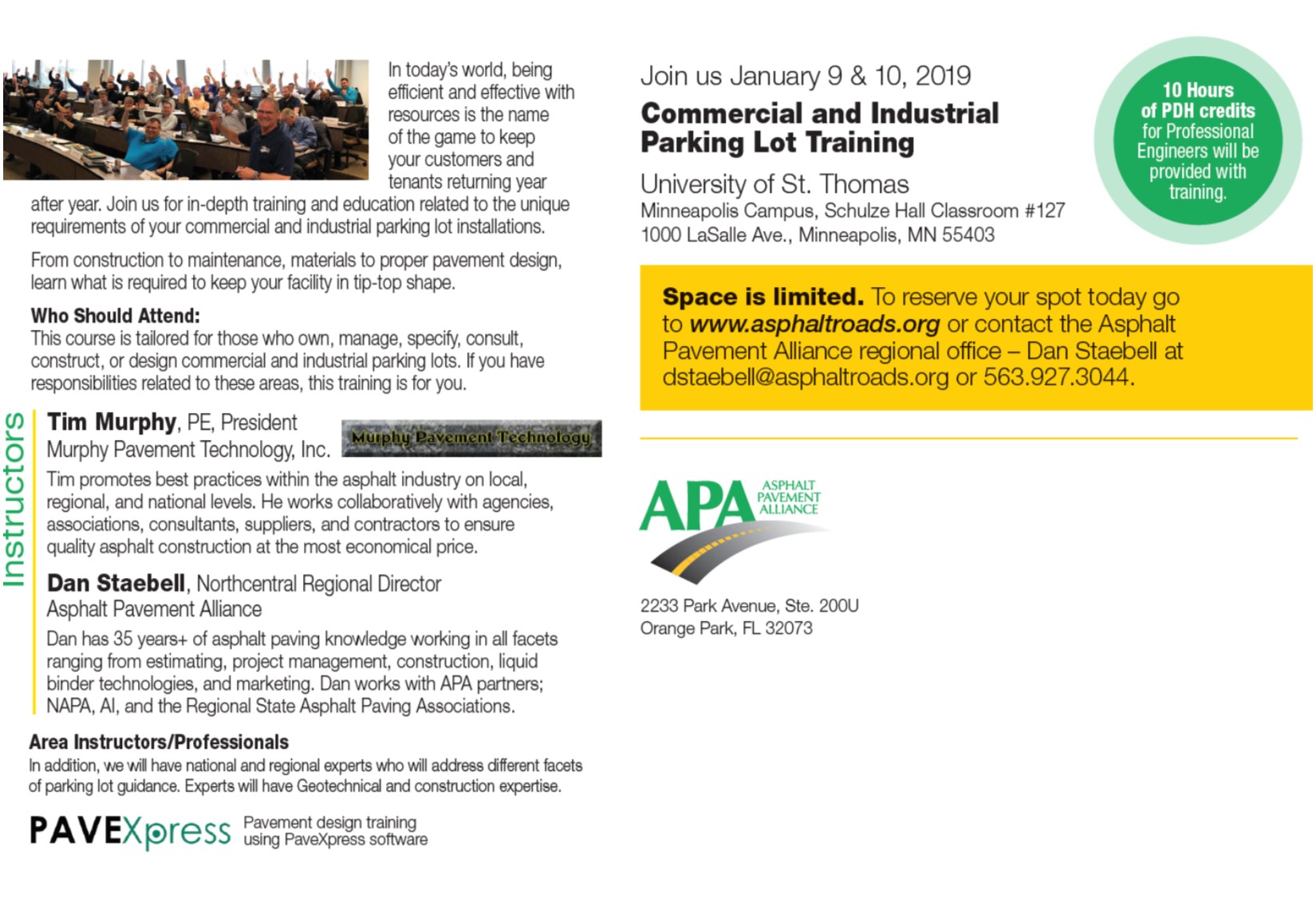 Special room rates available if booked by December 28, 2018, at:
Doubletree Guest Suites Minneapolis
Booking Link: http://group.doubletree.com/AsphaltPavementAlliance
Group Name: ASPHALT PAVEMENT ALLIANCE

Arrival Date: 08-Jan-2019

Departure Date: 10-Jan-2019